Lex Associates is proud to be one of the premier manufacturer representatives to the electrical industry. We offer a high level of service to our customers, distributors and manufacturers that is unparalleled in the industry. We pride ourselves on quality assurance, business integrity and professionalism.
Representing some of the finest manufacturers in the Electrical Industry including:
Over the past 30 years, Lex has built key relationships with distributors in our territory providing the manufacturers we represent with the best penetration in our market. The products we represent cover all aspects of the trade to include the following: Commodity Electrical Construction Materials, Energy Management Products, Specification Products and Specialty Wire and Cable Products.
Since its inception, Lex has strived to exceed the expectations of both its manufacturers and customers. We are consistently raising the bar on our standards of performance. At Lex we strive to provide our manufacturers with the best possible distributor partners in every market we serve. We accomplish this by relying on the experience and expertise of our staff.
Lex Associates prides itself on being able to serve our customers with the best and fastest service available in our region. We're not just a Manufacturer Representative…We're a Warehouse Facility…We're a Trucking Fleet…We're a Wire Cutting and Paralleling Service. That's what you can expect from Lex!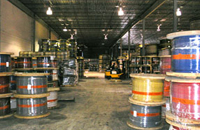 Our Warehouse
We maintain over 100,000 square feet of warehousing capacity, and are conveniently located just a few miles from the heart of Manhattan.
Trucking
Our trucking capabilities are second to none. Lex Associates operates a fleet that includes flatbeds, box trailers, and self-unloaders. This service provides the manufactures we represent with a cost effective option to quickly service customers in our territory.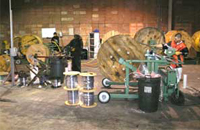 Cutting & Paralleling
When it comes to cutting and paralleling no job is too big. Our wire department consists of five cutting machines and skilled operators ready to service your needs. We also offer striping when needed.
Warehouse
Over 100,000 square feet of warehousing space. Strategically located for convenient pick-up and next day delivery
Shipping
We have our own company-owned fleet of trucks. Drivers with self-unloaders. Tractors and box trucks available.
Representation
Professional and courteous representation.
In-house Services
We offer cutting, paralleling and striping on site.
IBEW Members
All drivers and warehouse staff are proud IBEW members in good standing.
Partnering
Vested partner in your success and utility products.